Tea length skirts lend to a time that tea parties were about being classy and social. But, since there seems to be a lack of tea parties in my schedule, I find it hard to pull off high waist tea length skirts unless in a formal setting like a wedding or a shower. However, the tradition tea length skirt has come a long way and with new fabrics and cuts, there are less formal, but just as classy and stylish, options all over.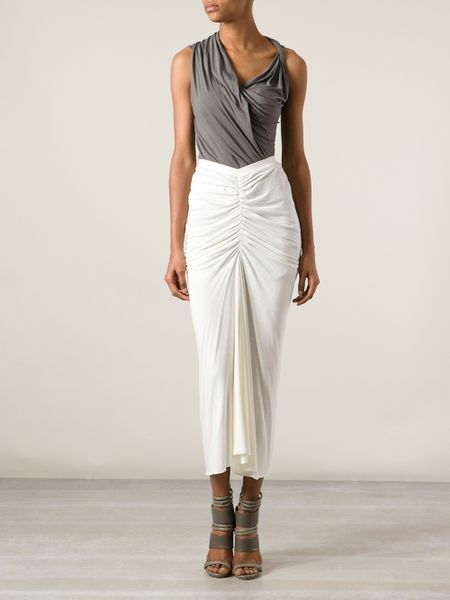 One great twist on the tea skirt is the gather and draping of this white skirt. The fit of the skirt is more modern, but still modest.
The tea length in tulle gives the skirt a texture that is more playful than straight cotton and makes the skirt more whimsical looking. People just might ask you if you are going to or in swan lake.
My favorite twist on this tea length skirt is the leather, or faux leather, style that adds a structure to the skirt and a pop of color for excitement. Red is bold and the cut is strong.
For a little sass with all the class still, there is the sheer skirt with the under skirt cutting off above the knee. Show a little knee, keep the rest a secret.
And, of course, the really modern and scandalous, don't wear this to your grandma's tea party, take on the traditional tea length skirt. All the cuts and fitting lines of the skirt make this sexy with showing only a little but of skin. Night's out with the girls don't have to get wild, your skirt is wild enough for all of you.
Looking at the options for this summers skirts, the tea length can make an appearance in your wardrobe in many new and exciting ways. And hey, there is always still the classic. Because what the heck, you can throw your own tea party.
Until next time, I'm designer dreaming.